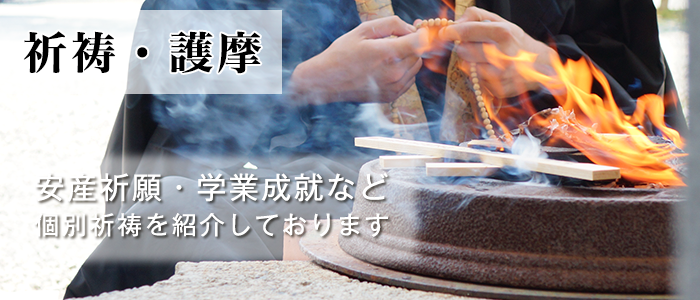 At the Happiness Temple, we accept various prayers and prayers such as prayers for safe delivery, academic fulfillment, and amulet. We would appreciate it if you could read the details below.

 Please be sure to make a reservation by phone.

If you have any questions, please do not hesitate to contact us by phone.



Jizhen Festival
From 20,000 yen
When you say "Jizhensai", you may think of a shrine. Actually, even in a temple "Buddhist ceremony" Or "a test ceremony" The oldest is recorded in the Nihon Calligraphy.
For details, please click on the "Happiness Temple Jizhensai" below and visit the page. ↓

Prayer for safe delivery
...7,000 yen
Chanting
...5,000 yen
With the help of Buddha through chanting, we will exorcise disasters and demons. We will create a special amulet if necessary, such as in the case of an exorcism.(How to use the special amulet will be explained in detail when you give it.



Cucumber Seal
...7,000 yen
"Cucumber seal" is a secret method that is said to have been conveyed by Kobo Daishi Kokai, the founder of the Shingen sect. It purifies disasters and demons by returning them to the soil with contained cucumbers.
If you would like to enclose cucumbers, please make a reservation by phone.

This page has been automatically translated. Please note that it may differ from the original contents.